The 5th OnlineEU-China Health Forum Was Successfully Held Online
2021-11-01 09:14:22(Beijing Time)
The 5thEU-China Health Forum was held successfully online on October 12th, 2021. The forum this year wasco-organized by Ghent University, Tsinghua University, National Research Institute for Family Planning (NRIFP) and China Family Planning Association (CFPA) with supports from Hebei Medical University. The theme of this forum is Family Health: Challenges, Evidence and Policy. About 80 participants from China, Belgium and Kenya participated in this forum.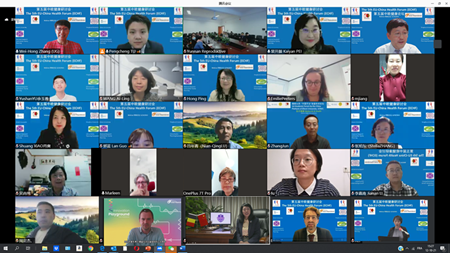 Vice President Wu Yuming made a speech at the opening ceremony of the forum,expressing a warm welcome and sincere thanks to all the participants and wished the conference a complete success. She pointed out that the "EU-China Health Forum" initiated in Brussels in 2017 has been successfully held for 5 years. This year is the 30th anniversary of the establishment of Sino-Belgium Diplomatic relations. Under this background, the forum, as part of celebration events, was of more historical significance.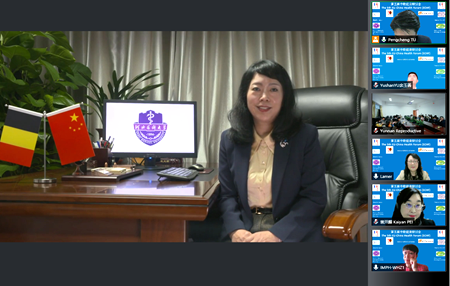 Mrs. Hong Ping, commissioner of CFPA,ProfessorTian Qingbao,director of the International Cooperation and Exchange Division of Hebei Medical University, and Professor Pei Kaiyan from National Health Commission Institute of Science co-chaired this forum. Prof. Marleen TEMMERMAN from Aga Khan University,Ms. Liu Hongyan,deputy director of Chinese Center for Disease Control and Prevention,Prof. Tang Kun from Tsinghua University,Ms. Emilie from Ghent Universitydelivered their keynote speeches.The topics cover a wide range of subjects, including maternal health during COVID-19 in the world, prevention of mother-to-child transmission of HBV in China, childbearing and Family development in the new era, sexual and reproductive health of Chinese Youth, etc..
Prof. Zhang Weihong from Ghent University gave a speech at the closing ceremony. She spoke highly of the fruitful results fromSino-Belgiumcollaboration via EU-China Health Forum, expressing her hopesfor in-depth collaboration between Belgian and Chinese researchersin the future. The sixth EU-China Health Forum is scheduled to be heldin October 2022.
Contributed by: International Office